Our Mission



The mission of The Lisbon History Center is "To preserve and display the history of our area." Our objective is to become the focal point for memorabilia in the Lisbon/Franklin Township area.
Currently at The Lisbon History Center





The Lisbon History Center currently does not have a special display.

If you have a collection you would like to share with the visitors of the history center contact us for more information.​​
​​​​​​

Welcome to The Lisbon History Center
102 E Main
​PO Box 544
Lisbon, IA 52253
Located along the historic Lincoln Highway.
Contact Web Master at ericyarbrough@lisbonhistorycenter.com
Please sign our guest book so we know who has been visiting our website. If you leave your email address we can put you on our mailing list to let you know of special events coming up at The Lisbon History Center.
To find the guest book click on the arrow next to Home at the top of this page and then click on guest book.
If you would like to make a donation to the Lisbon History Center, please click on the link below.
-Lisbon's Little Secret...
​
Well for anyone who has been to the Lisbon Cemetery you know that this secret is not little nor is it a secret to cemetery goers.​ We are talking about the 4 ton granite Gettysburg Boulder that stands proudly in remembrance of those who served our nation in the Civil War. This quiet reminder of a very pivotal point in our American History stands proudly for all to see.
​
​Over one hundred years ago some local residents and the Women's Relief Corps sent a request to have a boulder from Gettysburg for a memorial monument. The first request was in late 1914 and the process took over a year before the boulder was secured. Please read here for a brief story about how the boulder came to be part of Lisbon, this is from our 2011 Cemetery Walk. A special note is that there were only 2 boulders ever removed for the Gettysburg Battlefield.

​​We are glad to announce that the 100th year of this memorial will be coming up in May of this year. The Gettysburg Boulder has stood proudly in the same spot for a century reminding everyone of the struggles of the civil war. Along side of the boulder there are also grave markers of Lisbon residents who served in the Civil War, not necessarily in the Battle of Gettysburg.

At the Lisbon History Center we have copies of the maps where the boulder came from, almost all the correspondences ​​from the acquiring of the boulder. You are free to stop in and take a look and ask questions.
​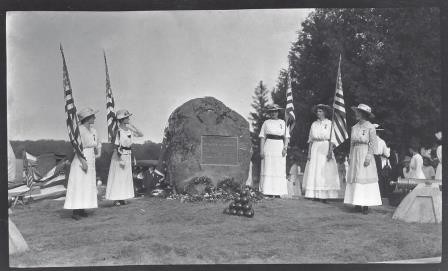 -The Lisbon History Center is on the search again. We are looking for unique displays for out front display cabinet. Through out the year we change around our front parlor area with various displays. We have many displays like our military, wedding dresses, antique dolls and other holiday displays.
What we are looking for is anything that is unique and interesting, if you have a collections that you would like to display let us know. We would be glad to display your collection in our glass showcase for a month or two.
Please contact us at info@lisbonhistorycenter.com for more details or with any questions.​​
-In the last few months the history center has been going through some changes. We have been moving around displays and gearing up for the summer. Out military display has been moved and expanded, including the display of one our Mountain Howitzer cannons mounted on a wooden pedestal. Our old time kitchen display has been enlarged to include many new antique, handmade cabinets from the Lisbon area. The next area to change and improve will be a vast collection of Lisbon School memorabilia and photographs.

We will be breaking out our Sauerkraut Days display items in the next few weeks to get ready for the celebration in August.

(Just a side note Sauerkraut Days will be moved back one week this year to the 3rd weekend, August 16th, 17 and 18th.)​​

In the coming months we will be displaying our collection of wedding dresses dating back to the early 1900's. There will be some decorating for Halloween and then we will be bring to life our holiday display.

Stop by the history center and see what is changing and all that is new. We look forward to all visitors from all corners of the earth.​​
-As the impending heat of summer is approaching, the history center was hit with a massive blow last week. We noticed that our air conditioning system was not working properly. We had a technician come and take a look for us and the news was not pleasant. We are in need of a complete new system at the cost of around $10,000.00. This system is vital to the climate control to keep memorabilia and artifacts from being destroyed. We have been fortunate to keep the humidity out for now but as the summer presses on it will be a struggle. This is the same system that is our secondary heat in the winter months to keep utility cost down. Before the system failed or began working improperly it saved us around 3% on our natural gas bill in the winter months. For a small non-profit organization that is a large savings as we rely almost entirely on donations.

We are currently trying to put together some fundraisers ​​to help with the cost of the replacement. We will announce the fundraisers and details as they become available. If you would like to help or make a donation to help with the replacing of our heating and cooling system please contact the history center.



(The Lisbon History Center Foundation Inc. is a licensed 501c3 non-profit and all donations are tax deductible)